Meet Our Staff
Veterinarians
Dr. Kristen DeCola

Veterinarian
Dr. DeCola is a proud mother of a daughter Lilly, a golden retriever named Archie Lee and 2 cats named Joey Peanut and Taco. She graduated from Texas A&M in 2004 with a degree in Biomedical Science and 2008 with her doctorate of Veterinary Medicine. She proudly graduated with honors in both rigorous degrees.
Ready to start saving lives she joined the Emergency Pet Clinic where she worked and trained under two board certified criticalist where she learned to manage and treat the sickest and most injured patients through medical and surgical intervention. During her transition to day practice her passion for client education, long term patient care and business management continued to grow. In 2017 she became the areas first Fear-Free certified veterinarian. Caring about and addressing a pets emotional well-being along with their physical health came naturally to Dr. DeCola. In April 2019 she opened Pet's Choice Animal Hospital. She is a family veterinarian and will treat your pets like the family members that they are.
Staff
Jaycie

Hospital Manager, Veterinary Nurse
Allyson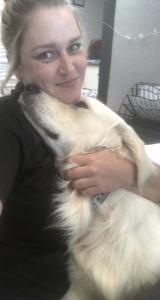 Allyson is a proud wife and pet mom to 2 dogs named Emma and Baron. She graduated from California Polytechnic State University, San Luis Obispo (Cal Poly, SLO) in 2017 with a B.S. in Animal Science. Growing up she had a large background in livestock through 4-H where she raised and exhibited cattle, horses, pigs and rabbits along with having her own household pets. Even at a young age, Allyson knew she would have a career in the animal field. Outside of work she loves to go hiking with her husband and pups or simply relax at home and watch The Office. She is loving Texas life and looks forward to treating your fur babies as her own.
Hannah
Hannah was born and raised near Detroit, Michigan but fell in love with Texas ever since moving here in May of 2016. Hannah graduated and got her LVT license in the state of Michigan in 2015 and has worked with a variety of different animals throughout her career (although she holds a special place in her heart for cows). She is a pet mom to a cockatiel named Mo and a dog named Semper which you will see in the front yard when you visit Pet's Choice! Hannah's favorite procedure to perform is dental cleanings. She prides herself with her ability to take the smelliest of mouths and reveal those pearly whites your fur babies have (but she highly recommends dental treats and daily brushings). Outside of being a veterinary technician, Hannah loves to challenge her creativity and adventure in different ways such as renovating a camper, exploring different hiking trails, and trying new recipes. Hannah is proud to be a part of the team at Pet's Choice Animal Hospital and looks forward to meeting new patients and clients and building strong relationships with you!
Meghan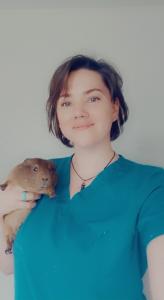 Meghan has been a veterinary technician for 5 plus years and has loved every day of her journey in the field. She is a pet mom to 2 dogs and 2 cats. Her favorite aspect of her job is getting to care for each pet as if they are her own and getting to work with animals of ALL sizes. Meghan proudly practices fear-free techniques so that each patient may have the best experience as possible while in her care. She has always taken an exceptionally large interest in animal behavior and training, understanding the patients' emotional well-being is her number 1 priority. She could not think of a better way to help patients than to help their owners understand what is going on with their pets and how to continue giving them the best care at home.