Meet Our Staff
Veterinarians
Dr. Kristen DeCola

Veterinarian
Dr. DeCola is a proud mother of a daughter Lilly, a golden retriever named Archie Lee. She graduated from Texas A&M in 2004 with a degree in Biomedical Science and 2008 with her doctorate of Veterinary Medicine. She proudly graduated with honors in both rigorous degrees.
Ready to start saving lives she joined the Emergency Pet Clinic where she worked and trained under two board certified criticalists where she learned to manage and treat the sickest and most injured patients through medical and surgical intervention. During her transition to day practice her passion for client education, long term patient care and business management continued to grow. In 2017 she became the area's first Fear-Free certified veterinarian. Caring about and addressing a pet's emotional well-being along with their physical health came naturally to Dr. DeCola. In April 2019 she opened Pet's Choice Animal Hospital. She is a family veterinarian and will treat your pets like the family members that they are.
Staff
Jaycie

Hospital Manager, Veterinary Nurse
Jaycie has been in veterinary medicine for 11 years. She has experience in emergency and general practice medicine. She started as a receptionist and worked her way up to practice manager. Her passion for animals made the transition into veterinary medicine an easy choice. In her free time, she likes to relax at home, travel and spend time with friends. She is happy to work with such an amazing company.
Allyson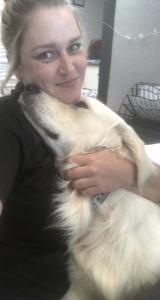 Allyson is a proud wife and pet mom to 2 dogs named Emma and Baron. She graduated from California Polytechnic State University, San Luis Obispo (Cal Poly, SLO) in 2017 with a B.S. in Animal Science. Growing up she had a large background in livestock through 4-H where she raised and exhibited cattle, horses, pigs and rabbits along with having her own household pets. Even at a young age, Allyson knew she would have a career in the animal field. Outside of work she loves hiking with her husband and pups, baking or simply relaxing at home and watching The Office. Allyson is proud to be a part of the team and looks forward to treating your fur babies as her own.
Hannah
Hannah was born and raised near Detroit, Michigan but fell in love with Texas ever since moving here in May of 2016. Hannah graduated and got her LVT license in the state of Michigan in 2015 and has worked with a variety of different animals throughout her career (although she holds a special place in her heart for cows and exotic birds). She is a pet mom to a dog named Semper which you will occasionally see in the front yard when you visit Pet's Choice! Hannah's favorite procedure to perform is dental cleanings. She prides herself with her ability to take the smelliest of mouths and reveal those pearly whites your fur babies have (but she highly recommends dental treats and daily brushings). Outside of being a veterinary technician, Hannah loves to challenge her creativity and adventure in different ways such as practicing photography, exploring different places with beautiful views, and baking delicious treats. Hannah is proud to be a part of the team at Pet's Choice Animal Hospital and looks forward to meeting new patients and clients and building strong relationships with you!
Meghan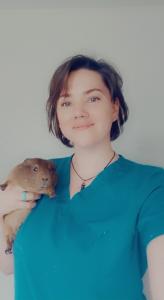 Meghan has been a veterinary technician since 2016 and has loved every day of her journey in the field. She is a pet mom to 2 dogs and 2 cats. Her favorite aspect of her job is getting to care for each pet as if they are her own and getting to work with animals of ALL sizes. Meghan proudly practices fear-free techniques so that each patient may have the best experience as possible while in her care. She has always taken an exceptionally large interest in animal behavior and training, understanding the patients' emotional well-being is her number 1 priority. She could not think of a better way to help patients than to help their owners understand what is going on with their pets and how to continue giving them the best care at home.
Lindsey
Lindsey is a proud mother to a beautiful girl, Tobi- a spicy orange cat, and Dottie- a free spirited dog. This is her first job in veterinary medicine and is currently one of our receptionists. She is working towards her Associate Degree as a Veterinary Technician. When not at work, Lindsey loves to spend quality time with her daughter, doing outside activities and relaxing at home.
Amanda
Amanda is a Senior at Texas State studying animal science hoping to graduate in the Fall of 2022. She is a dog mom to a sweet boy named Beaux. Amanda has been a kennel technician for 6 years and is finally starting her vet assistant journey to become a vet tech. Amanda is open to working with not just everyday animals like dogs and cats but also farm animals, marine animals, zoo animals, wildlife. etc.
Sydney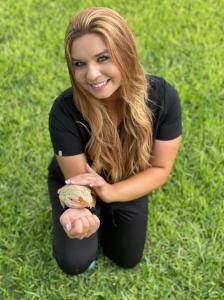 Sydney joined the Pet's Choice family in March of 2022. Though she is one of our newest members, she has quickly become an integral part of the team. Animals of all kinds have always held a special place in Sydney's heart, she has a vast understanding and knowledge of not only dogs and cats but also the equine industry.
In her down time she enjoys spending time with her sweet 2 and 1/2 year old Pit Bull/German Shepherd mix, Ellie Grace!
Sydney plans to continue her education in veterinary medicine while enjoying the opportunity to care for your sweet babies, you can find her in the reception area or the boarding facility - she enjoys every chance to interact with you and your four-legged companions!!
Kayla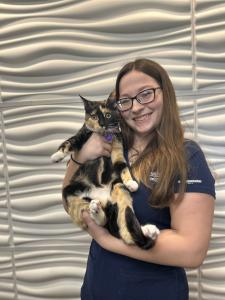 Kayla has always had a soft spot for animals and wanted to join the animal field since she was young. She grew up with many pets and currently has a beloved household dog named Biscuit. In her free time, she likes to explore new places or simply relax at home with her fiancé. She will be working toward continuing education to become a veterinary technician. In the meantime, she enjoys being one of our amazing kennel technicians and seeing returning pets as well as meeting new ones.